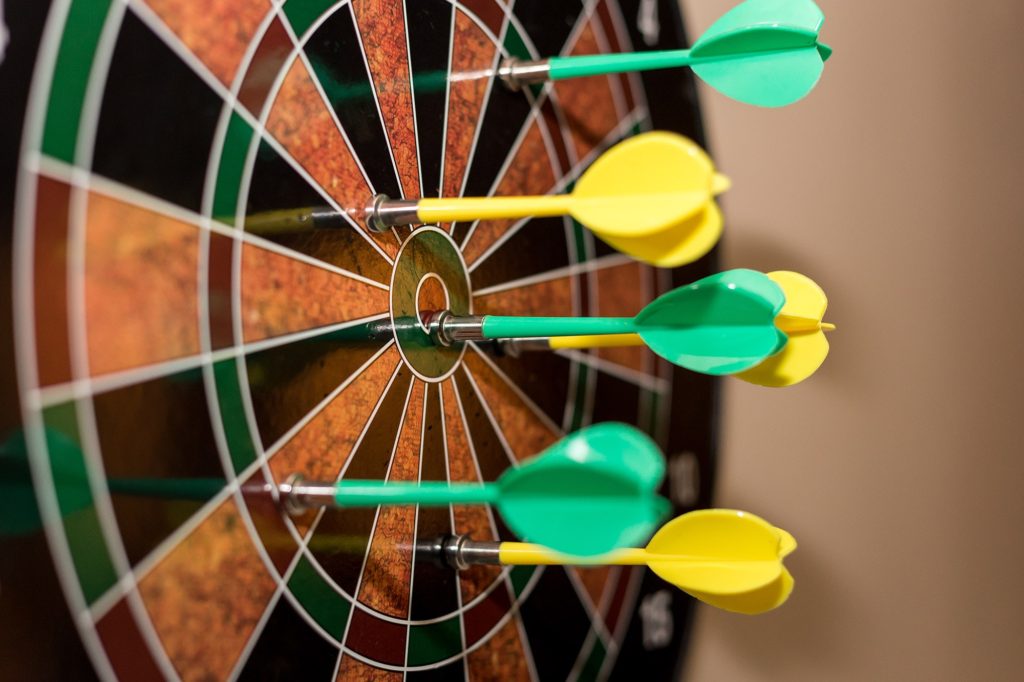 By: Keaton Swanzy
In today's world of unlimited options, having an established target audience is more important than ever — and the more specific the audience, the better. According to an article by Forbes, "one-size-fits-all" marketing is typically ineffective because it isn't focused enough. That's why it's important to understand the specifics of your audience in order to better reach them.
But how can your business determine who this audience is? By following these steps, it's easy to specify your audience and create buyer personas that will improve your marketing efforts.
Step 1: Examine your business.
This is a simple but important first step in defining your target audience.
Start by looking at everything your business provides its customers. Anything from the type of service or product to the atmosphere of your business' location or website can influence the makeup of your customer base.
Once you've considered these elements, start to think about who might benefit most from your business. This allows you to build an idea of who your audience might be and who you hope to target.
Step 2: Analyze your current customers.
Who is currently buying your product or using your services?
Take into account which groups already frequent your business and note important demographics such as age and gender as well as psychographics such as personal interests and values.
Looking into specific qualities and finding common themes can help narrow your market down to one or more niche groups. You can then compare the data you've collected with the kind of audience you envisioned in the first step.
Step 3: Look at your competitors.
The next step to defining your audience is to look at your competitors.
Understanding the makeup of their customer base can help confirm the audience you analyzed in your current customer base and may uncover new audiences to target.
Step 4: Build a buyer persona.
Once you've collected data on your ideal, current and competitor's audiences, start to piece together a buyer persona, or a profile of what a potential customer for your business might look like.
Buyer personas can be as specific as you'd like, and should include details such as gender, age, personal interests, occupation, values, location, etc. If there are differences across your potential audience, build multiple personas to identify these different groups.
Here is an example of what a buyer persona might look like, from an article in Alexa:
Step 5: Research your audience.
Once you've established your target audiences and built your personas, you'll need to do additional research on how to find your customers.
Find out which platforms they use, the places they often visit and the kinds of networks they interact with. This will provide you with a list of different channels, platforms and settings in which you can promote your business.
For example, if your buyer persona is a woman between the ages of 20 and 30, consider incorporating social platforms like Instagram in your marketing strategy. Or, if your buyer belongs to a niche community of a specific interest, consider researching influencers and bloggers this person might follow for partnership and sponsorship opportunities.
Step 6: Shift your marketing efforts.
After you've done your research, look at your business' current marketing or communications plan.
Consider what could be changed or added to ensure that you reach your target audience, whether that's investing more in social media or pushing your brand into new channels or locations.
Make sure to focus on the areas or platforms you found in your research to be most frequented by your audience, and see how you can adjust your marketing efforts to be more present in those areas.
Why does establishing a target audience matter?
Establishing a target audience provides endless benefits for your business. Understanding who your customers are provides insight on how you can shape your business strategy to appeal to them, and the best activity to gain an all-encompassing view is by building buyer personas.
With social media, blogs and other tools, it's easy to put your brand out there, but once you know who your customers are, you can determine where they'll actually receive your message and focus on those channels alone.
Doing this also makes marketing efforts worth the cost by eliminating unnecessary or inefficient tactics and focusing on the ones that will benefit your business the most.
What we can do
At the Brand Studio, we help businesses create the right content and manage social media marketing efforts so they can effectively reach their audiences. If you have any questions about target audiences or buyer personas or are interested in working with our team, contact us!